Spannend! De shortlist van de Business Book of the Year 2022 award van Financial Times & McKinsey is bekendgemaakt, en er zit weer veel moois bij.  Uit de 600 genomineerde titels zijn nu de laatste 6 boeken bekendgemaakt die nog kans maken op de award. De winnaar weten we op 5 december!  Wat vind jij van deze 6 kanshebbers?  En welke ga jij lezen deze herfst?
 Ik geef je verkorte omschrijvingen van de 6 boeken vanuit de flapteksten, want: ik heb nog geen één zelf gelezen.
Dead in the water
Murder and Fraud in the World's Most Secretive Industry  van Matthew Campbell en Kit Chellel.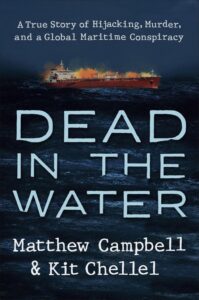 In July 2011, the oil tanker Brillante Virtuoso was drifting through the treacherous Gulf of Aden when a crew of pirates attacked and set her ablaze in a devastating explosion. But when David Mockett, a maritime surveyor working for Lloyd's of London, inspected the damaged vessel, he was left with more questions than answers. How had the pirates gotten aboard so easily? And if they wanted to steal the ship and bargain for its return, then why did they destroy it? The questions didn't add up—and Mockett would never answer them. Soon after his inspection, David Mockett was murdered. Dead in the Water is a shocking expose of the criminal inner workings of international shipping, told through the lens of the Brillante hijacking and its aftermath.
Bestel het boek hier.
Influence Empire
The Story of Tencent and China's Tech Ambition van Lulu Chen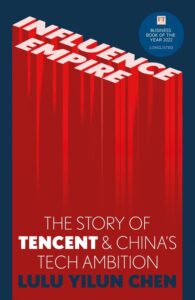 Founded by the enigmatic billionaire Pony Ma, the firm that began life as a simple text-message operator invested in and created some of China's most iconic games en route to dreaming up WeChat – the Swiss Army knife super-app that combines messaging, shopping and entertainment. Through billions of dollars of global investments in marquee names from Fortnite to Tesla and a horde of start-ups, Ma's company went on to build a near-unparalleled empire of influence. This fascinating narrative – crammed with insider interviews and exclusive details – tells the story of how Tencent created the golden era of Chinese technology, and delves into key battles involving Didi, Meituan and Alibaba. It's a chronicle of critical junctures and asks just what it takes to be a successful entrepreneur in China.
Bestel het boek hier.
Disorder
Hard Times in the 21st Century van Helen Thompson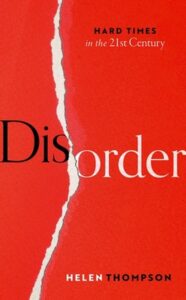 The 21st century has brought a powerful tide of geopolitical, economic, and democratic shocks. Their fallout has led central banks to create over $25 trillion of new money, brought about a new age of geopolitical competition, destabilised the Middle East, ruptured the European Union, and exposed old political fault lines in the United States. This book is a long history of this present political moment. It recounts three histories – one about geopolitics, one about the world economy, and one about western democracies – and explains how in the years of political disorder prior to the pandemic the disruption in each became one big story. It shows how much of this turbulence originated in problems generated by fossil-fuel energies, and it explains why as the green transition takes place the long-standing predicaments energy invariably shapes will remain in place.
Bestel het boek hier
The Rise and Fall of the Neoliberal Order
America and the World in the Free Market Era van Gary Gerstle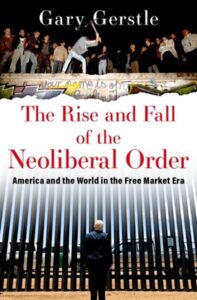 The word neoliberal is often used to condemn a broad swath of policies, from prizing free market principles over people to advancing privatization programs in developing nations around the world. To be sure, neoliberalism has contributed to a number of alarming trends, not least of which has been a massive growth in income inequality. Along with tracing how this worldview emerged in America and grew to dominate the world, it explores the previously unrecognized extent to which its triumph was facilitated by the collapse of the Soviet Union and its communist allies. It is also the first to chart the story of the neoliberal order's fall, originating in the failed reconstruction of Iraq and Great Recession of the Bush years and culminating in the rise of Trump and a reinvigorated Bernie Sanders-led American left in the 2010s.
Bestel het boek hier
The Power Law
Venture Capital and the Art of Disruption  van Sebastian Mallaby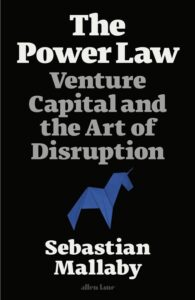 Innovations rarely come from "experts." Jeff Bezos was not a bookseller; Elon Musk was not in the auto industry. When it comes to innovation the future cannot be predicted, it can only be discovered. Most attempts at discovery fail, but a few succeed at such a scale that they more than make up for everything else. That extreme ratio of success and failure is the power law that drives venture capital, Silicon Valley, the tech sector, and, by extension, the world. This book tells the story of this strange tribe of financiers who have funded the world's most successful companies, from Google to SpaceX to Alibaba. With a riveting blend of storytelling and analysis, this book makes sense of the seeming randomness of success in venture capital, an industry that relies, for good and ill, on gut instinct and personality rather than spreadsheets and data.
Bestel het boek hier
Chip War
The fight for the world's most critical technology van Chris Miller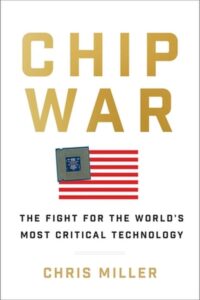 You may be surprised to learn that microchips are the new oil: the scarce resource on which the modern world depends. Today, military, economic, and geopolitical power are built on a foundation of computer chips. Virtually everything, from missiles to microwaves, runs on chips, including cars, smartphones, the stock market, even the electric grid. Until recently, America designed and built the fastest chips and maintained its lead as the #1 superpower, but America's edge is in danger of slipping, undermined by players in Taiwan, Korea, and Europe taking over manufacturing. Now, as Chip War reveals, China, which spends more on chips than any other product, is pouring billions into a chip-building initiative to catch up to the US. At stake is America's military superiority and economic prosperity.
Bestel dit boek hier
Welke ik ga lezen? Dead in the Water, want: over Fraude en daarin ben ik beroepsmatig geïnteresseerd. The Power Law ook, want: innovatie en disruptie boeit me bijzonder.  En ik denk ook The Rise and Fall of the Neoliberal Order, want: we klagen erover, we moeten er wat mee, goed om er dan ook nog wat meer over te weten. En welke ga jij lezen?
Abonneer je hier op de kwartalige nieuwsbrief.
Of abonneer je op de blog-updates! Vul je emailadres in en ontvang tot 2x per week mijn blog in je inbox.